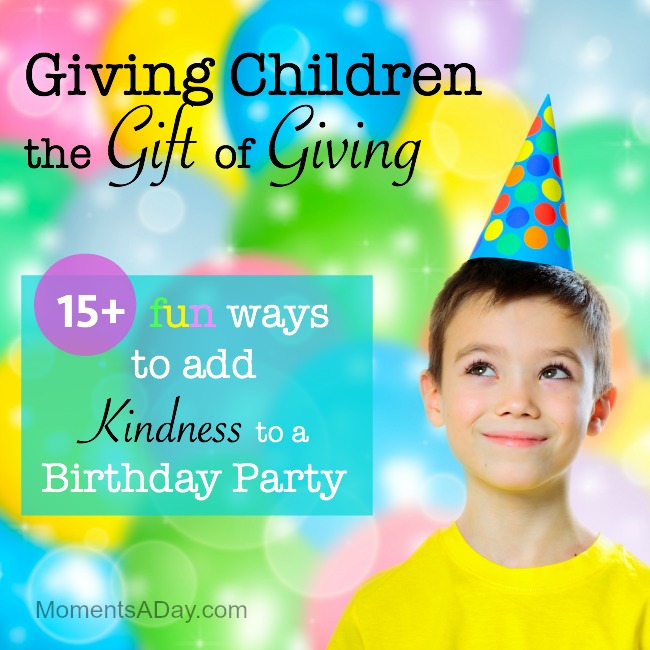 Birthdays are such a fun time to celebrate our children and show them how much we love them.  It is always a memorable occasion to gather with family and friends, thinking back on the day your child was born and reflecting on how much they have grown over the past year.
However I want to make sure my children recognize the value of birthdays as a celebration of LIFE and not merely a chance to be the center of attention or get more *stuff*.  I would also like to see our family and friends give "birthday presents" to a worthy cause versus buy more things my children might play with (for a while) but honestly do not need.
For these reasons our family decided to have service-themed birthdays and, in this way, we give our children one of the most important gifts there is: the gift of giving.  Each birthday we choose a cause to support – whether it is a hands-on service project or raising money/materials for a special organization.  We invite friends to come to our birthday party with a donation in lieu of a gift (described on the invitation), and we have fun making a difference in the world while celebrating the special day our child was born into it.
You may think kids are "missing out" by not receiving presents.  But from my experience and from the experience of my friends, the kids are gaining so much more by learning to give. They are learning that life is not about getting more *stuff* for yourself, but appreciating what you have and being generous whenever you can.  True happiness comes from the love we share, and the love of a physical possession can never outweigh that.
For the friends and family who still want to give something (especially grandparents), I suggest needed items such as jackets or shoes of the next size, or specific books I know my kids would love.  They also get a present from mom and dad, and one from each sibling – and yes some of these are fun toys or experiences.  Once you try it, you will see how a "few" presents are MORE than enough!
As my son's fifth birthday is coming up, I wanted to brainstorm some ideas for us to consider this year.  So I asked some of my friends and blogging buddies to share their experiences with service-themed birthdays and collected these 15 fun ideas for incorporating "the gift of giving" into birthday celebrations.  What a fantastic range of ideas they came up with!
Next month I will share what sort of service project my son decides to do for his 5th birthday, as he still has not decided yet.  Be sure to join me on Facebook, Pinterest, Twitter, and/or sign up for my monthly newsletter if you don't want to miss it!
Please note that some of the contributors have websites of their own and posts with more details about their service-themed birthdays.  Be sure to click on the website links to find out more!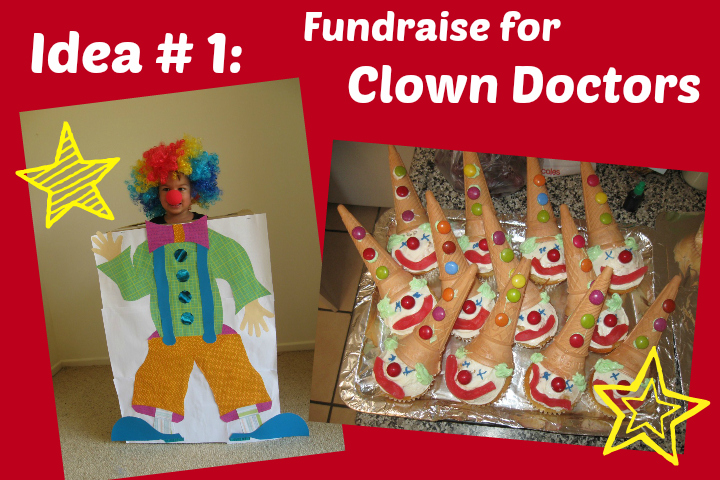 One year we held a clown themed birthday party where we collected donations for the Clown Doctors who visit the children's hospital.  I wrote a guest post about our party including our clown themed treats, activities, and how we collected donations which was published at Octavia and Vicky here.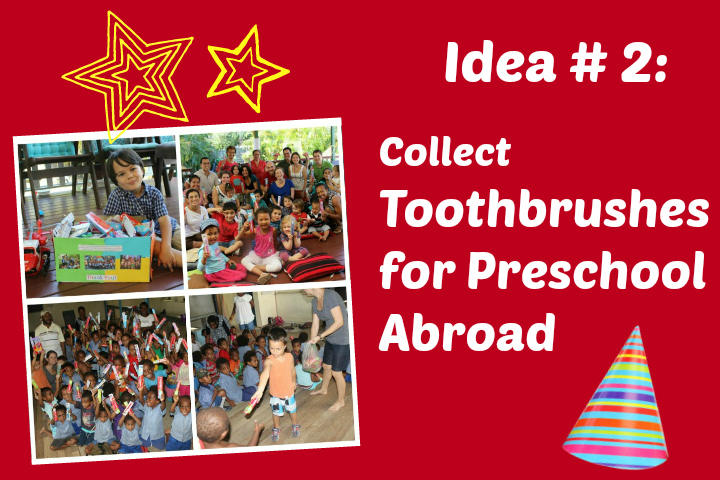 The next year my son wanted to collect toothbrushes for a preschool started by his grandparents in Papua New Guinea as these children did not have any.  You could also collect school supplies or ask for specific items that a school requests.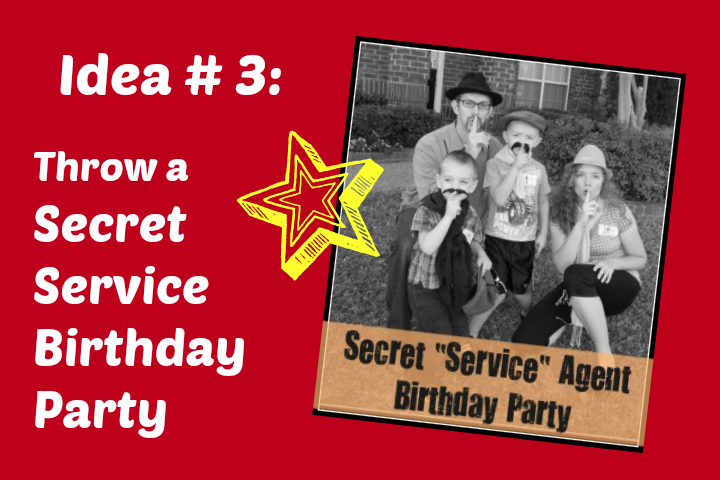 Sheila from Pennies of Time shared about their Secret "Service" Agent birthday party which included service in so many fun ways – dressing up as secret agents and service games included!  Be sure to check out the post to find out about the fun agent names and awesome mustache wall!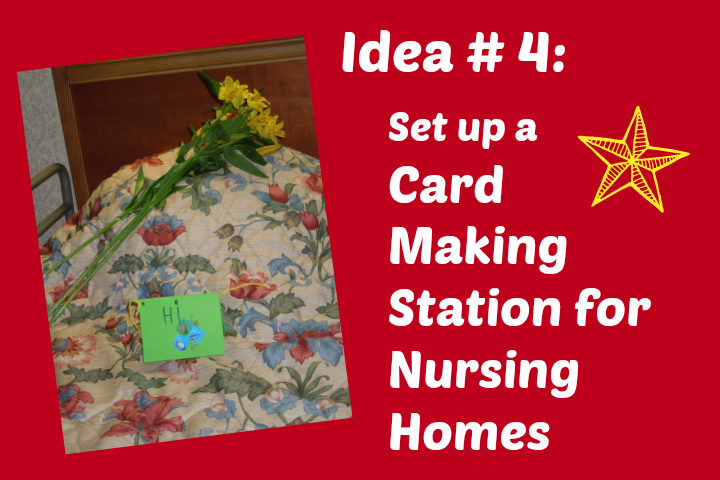 Setting up a card-making station can be a lot of fun.  Here the kids made cards for the residents at a nursing home, then delivered them.  (Don't miss the sweet smiles captured on camera in the post.)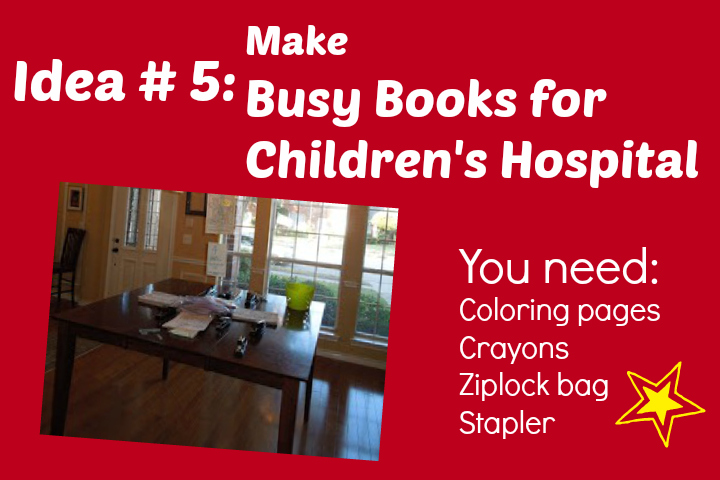 Another idea is setting up a Busy Book Station where the kids create fun busy books for patients at the Children's Medical Center.
Elise shared about her son's Superhero birthday party where the children dressed up and donated toys to a local domestic abuse shelter, ultimately learning about being True Heroes.  Find the story plus more party details in this post.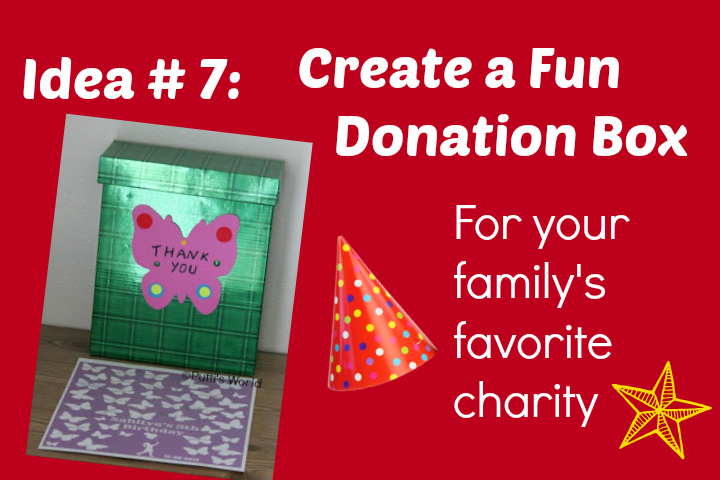 "For my daughter's birthday, in the party invites I mentioned "Presents only in blessings."  I added a note saying that guests were welcome to join us in making donations to an NGO we work with and that we would have a donation drop box at the party.  The NGO we donated to is in India and is called Divya Deepa." ~Roopa from Putti's World
Get your child in on the decoration of the donation box – you may even want to add their picture to it!  You can see my example here.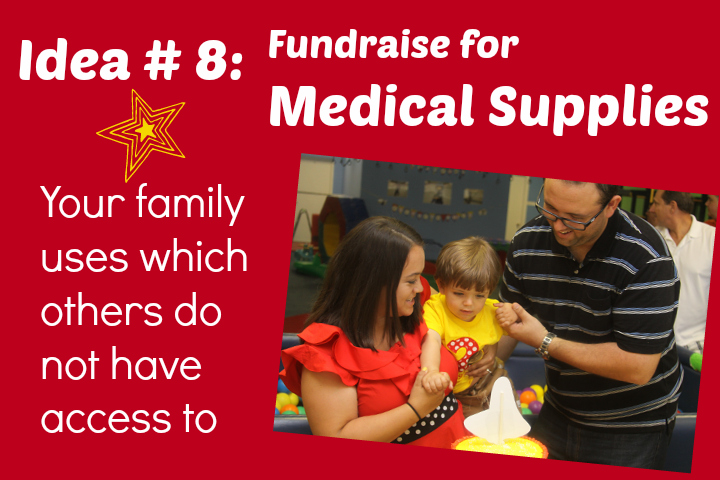 "My son just turned 2 exactly a month ago and we asked for donations to charity in lieu of gifts.  The charity is called Global Links and it's a worldwide medical relief organization that provides medical supplies to areas in dire need (medical beds, sanitary sutures, etc.). One of their departments is called The Nebulizer Campaign, which is an area of the organization that raises funds to provide nebulizers — or breathing treatments — to those in need. I chose this area in particular because Ethan has asthma and having access to a nebulizer has saved him immensely. So many aren't as lucky, and I wanted to give them the chance." ~Lindsay from You Are The Roots
Read about the incredible Curious George party Lindsay threw here!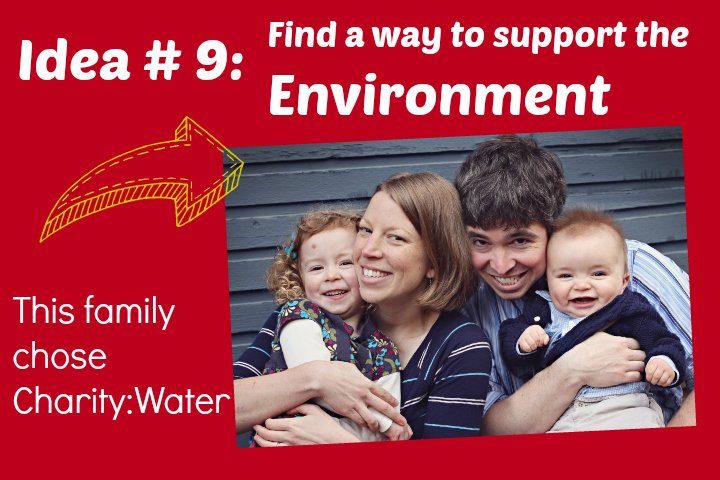 "My kids give up their birthday presents from friends to raise money for Charity:Water." ~Asia from Fun at Home with Kids
Among many other fun environmental projects, you could also do a park clean-up or gardening for a neighbor as one of your party activities!  Think of a way to make it special by adding music, hidden treasures, or prizes for those who gather a certain amount of trash or weeds.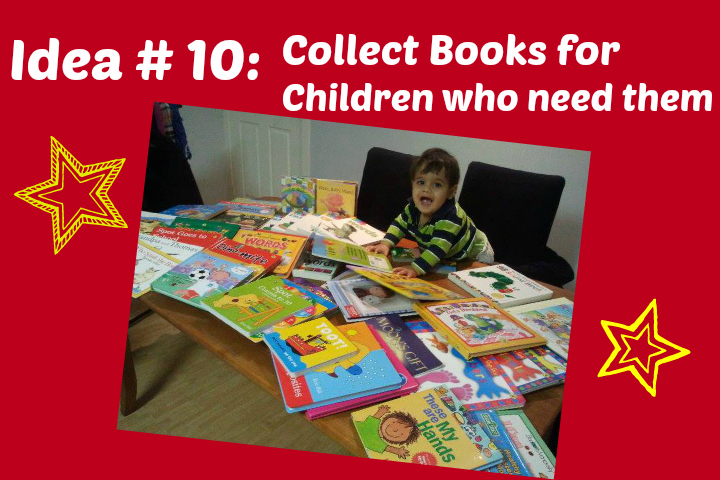 "Josh asked for donations of children's books instead of receiving birthday presents for his first birthday. He is donating the books to Buk Bilong Pikinini in PNG. They provide libraries for children unlikely to ever go to school. We want Josh to learn the gift of giving and generosity." ~Fee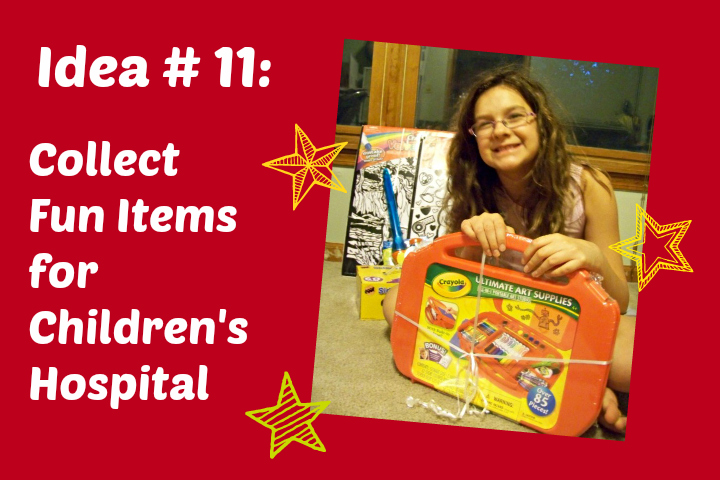 "My daughter asked friends to bring summer fun items for a donation to our Children's Hospital. Her friends were so great – craft kits, books, coloring items, indoor flying toys, magnetic items and more!" ~Jacquie from KC Edventures.  See the post about the Percy Jackson birthday party and donations here.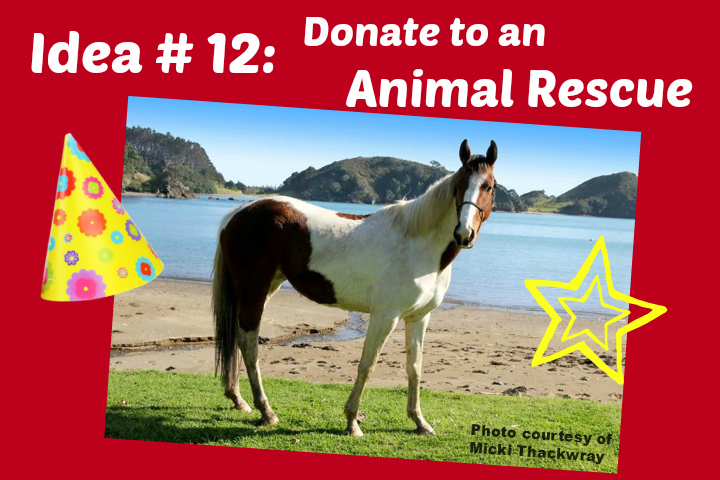 "My niece loves horses, so for her 10th birthday she asked everyone to donate to a horse rescue. (And when a friend did give her a gift, she returned it and donated the money!)." ~Mara from Migraine Family
Ask your child which animal they would like to help – or call up the local zoo or wildlife reserve to see what initiatives they are currently working on.
"For our sons first birthday last year we did a fresh food collection for a family in need."  ~Christine from Sidewalk Blessings
You could also collect non perishable items for the local homeless shelter or soup kitchen.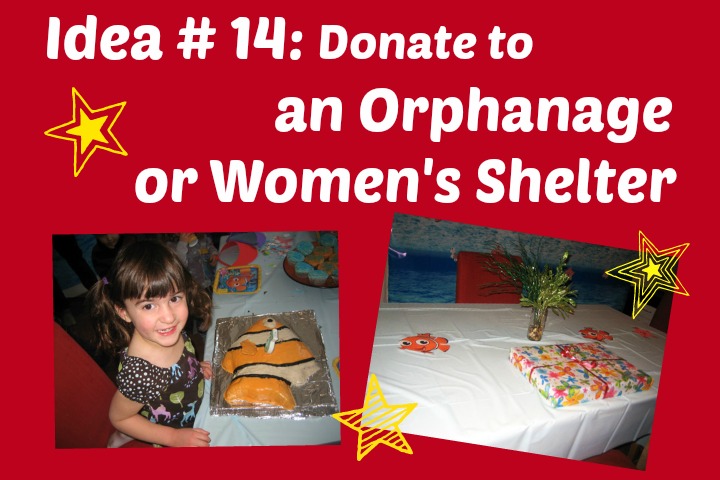 Stephanie from InCulture Parent has tons of experience with fundraising during birthday parties – find out some of the organizations her family has supported, including an orphanage and local women's shelter, in this post.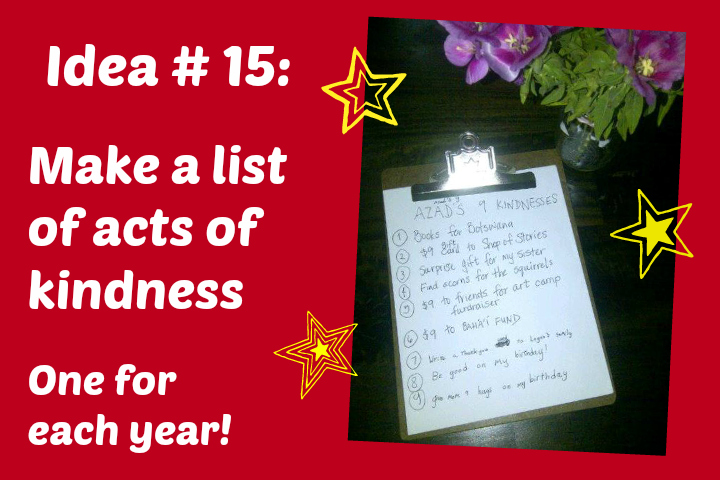 "For his 9th birthday, my son came up with 9 acts of kindness.  We also invited friends to donate books to send to create a reading corner at a children's hospital in Botswana." ~Gayatri from Inspiration Station – Education
For more awesome ideas, and a great list of tips to plan your own Service Project Birthday Party, visit this post from Pennies of Time.
Have you or your child had a birthday party or celebration that included service?  Please share your experiences and ideas in the comments!
If you liked this post, please spread the love!