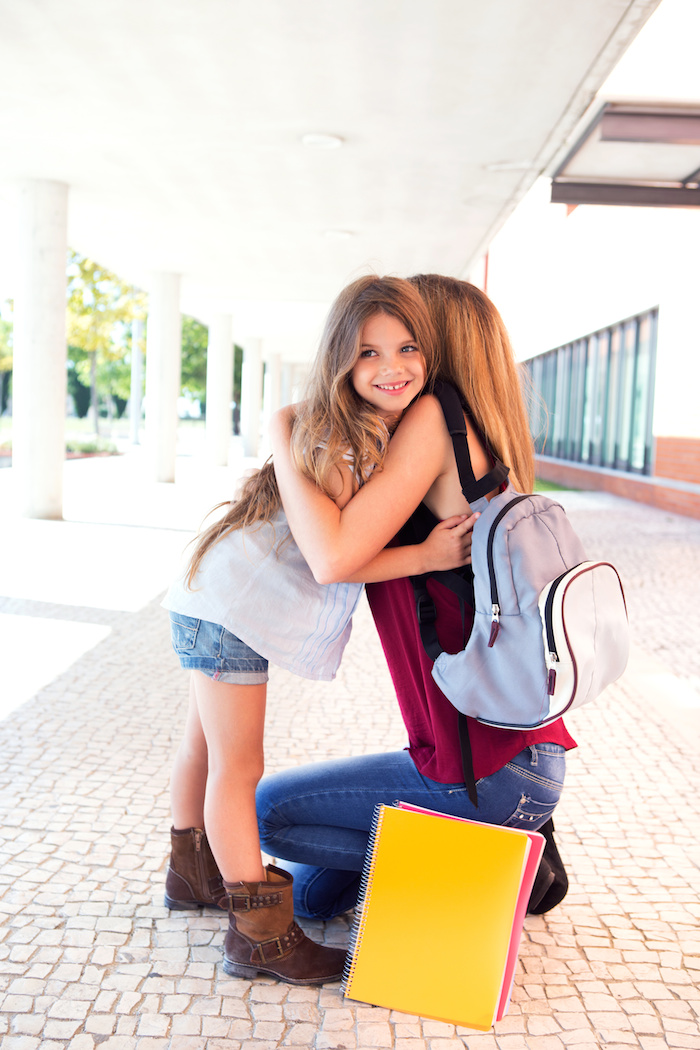 My oldest son starts school soon and I've been feeling a range of emotions.  Having 6 fewer hours a day together is no doubt going to cause big changes in our routine and relationship, even though I know "it will be fine."  Putting my own nerves and concerns that I will miss him aside, however, I am trying to focus on finding ways I can connect with him during the time we do have together.
Mostly I want to make sure he knows I love him and that I am here for him – even though he will not be with me all day anymore.
Here are five easy ways to connect with kids starting school.
Make time for extra cuddles in the morning.
It sounds simple but I know when we are rushing out the door, I can forget to be calm and centered enough to remember hugs and kisses.  I want to be sure I give my son an unhurried hug before leaving every morning in case we forget or get distracted right before drop off.  Ideally I will plan so that there are a few surplus minutes on the clock in case this takes a bit longer than usual.
Leave a little note or picture in his lunch box.
My son can't read yet but I'd like to leave a little drawing or note with symbols (eye heart U) in his lunch box.  I'm thinking about using post-it notes, nothing fancy, but just a small gesture to let him know he's not alone and I'm still thinking of him during the day.
Sit together while sharing an after-school snack.
When we are taking care of errands and busy with activities, I sometimes feel I miss out on important conversations.  Just to ensure he can chat about anything he needs to, I want to make an effort to sit and share a snack at the table each afternoon when he comes home from school… before any after-school jobs are started.  Bedtime is not always the best time for talking because everyone is tired (and my boys share a room) so I am going to see if after-school snack time is a good place to open up space for connecting.
Read books that reminds him how much he is loved.
Story time is such a wonderful way to bring up memories and nurture bonds.  Last month I got a personalized copy of "Who Loves Me?" by I See Me.  This is a precious book that tells your child about everyone who loves them.  You get to choose which people are included in the book (grandparents, siblings, etc) as well as personalize the book with a full name, birth date, picture, and short message.  Both my boys love their copy and we have enjoyed reading through it many times.  The poetry is beautiful and the pictures are vibrant.  I feel the book offers a really nice way to remind them how many people love them, which will hopefully help them feel more confident and supported.
Spend one-on-one time learning more about his interests on the weekend.
Whether it's simply a walk to the corner store or spending some time reading during little brother's nap, I'd like to make sure I have a good thirty minutes with my older son (one on one) every weekend.  Because I will be less involved in his everyday play, I would like to use this time to find out about any new interests.  For example, now my son really likes to kick a ball outside and create drawings of bugs and reptiles.  But who knows what new topics he will get into this year?  I would like to purposefully make weekend time "catch up time" to find out more about what he is learning and enjoying.
I'm sure after school starts, I will learn even more about adding in time for connection and figuring out how to adjust our time together.  Do you add special moments into the day to connect with your child?  Please share!

Enter the Giveaway
This giveaway is now closed.  Congratulations to Shelli who was the winner.
Would your child like a personalized copy of "Who Loves Me?" by I See Me?  Simply comment with your answer to the question below to enter the giveaway competition.  The most compelling or creative answer will win.  The contest ends on 27 January 2014 at 9pm EST, and the winner will be contacted for details to create their book!  This giveaway is open to residents of all countries.  Please be sure to use a valid email address.  The winner will be contacted to request mailing details and if we do not receive a response within 5 days, a new winner will be chosen.
Answer this question to enter the giveaway:
What is your child's favorite way to connect with you?
Beyond a wide range of books, I See Me also offers personalized lunchboxes, puzzles, coloring books, place mats and more.  Visit their main website here.  If you would like to stay updated on what I See Me has to offer, you can sign up to receive discount promos on this page, or join them on Facebook, Twitter, Pinterest, or Instagram.
This post was sponsored by I See Me.  For details about reviews and advertising on my website, visit this page.