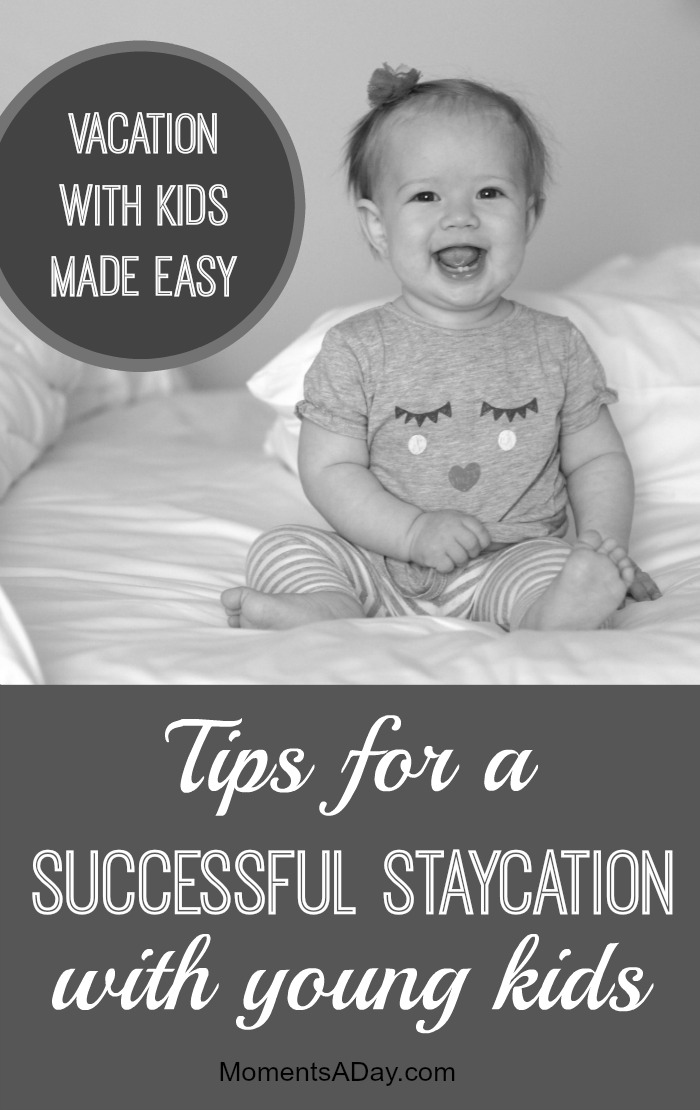 Recently my husband found out that he passed a major exam, so we decided to celebrate by going on a mini vacation.  But instead of traveling a few hours for our holiday, we planned a "staycation" right in our own city.  Yes, that's a real thing!
A staycation is when you stay in your own city and explore it from the tourist's point of view.  It can be easy to forget how amazing your own city is, and sometimes locals don't take advantage of all the wonderful attractions that their own city has to offer, so a staycation is a great way to go on vacation without having to spend a lot of time traveling or planning for a city you know nothing about.
It is really quite easy to plan a staycation but a few tips go a long way to making it as stress free as possible.
Here are my tips for planning a successful staycation with young kids:
Let each family member choose one activity.
One of our favourite methods for ensuring everyone has a great time on holiday is that we choose activities based on what each person loves.  One child might want to visit the museum whereas the other wants to go swimming.  Daddy may want to go bowling whereas mama wants to do the high tea.  Planning at least once activity for each family member gives everyone a chance to get a say in the itinerary, so that every person feels excited and positive about the events of the day!
Book accommodation near your excursions.
Planning excursions within walking distance means you can avoid expensive city parking and lugging around carseats.  This takes a lot of stress out of the weekend, and means you can spend more time together while you get to places, instead of sitting in the car feeling stressed about traffic.  Everyone can enjoy the "ride" because no one has to follow directions or watch the road, too!
Make relaxing food arrangements.
It is useful pack a few regular snacks so you don't have to stop everything to look for specific food items that your kids will eat.  I also like to plan where we are going to eat our main meals ahead of time so we can avoid hungry tummies (and grumpy kids).  It's a good idea to check out the kids menu at the hotel and, if you are planning to be out all day, order room service to be delivered when you arrive back in the evening so you can have a relaxing dinner in the room – and no one has to wait.  Eating out with kids can be tricky, so knowing your options ahead of time reduces stress for everyone.
Don't overpack.
A pair of clothes for each new day, one extra pair just in case, pyjamas, toothbrushes, sleeping toys, a colouring book with crayons, and you are good to go!  If you really need something else, you can just drive home, so don't overdo it.  One benefit of a staycation is that you are avoiding all the travel and planning time.  Enjoy a vacation without heavy suitcases to lug around.
Have fun!
Forget about the laundry, the dishes, the vacuuming, and the "to do" list!  Relax and enjoy your family time!  You will be surprised how lovely it is to spend the night away from home, even when you are in the same town.  A staycation really can be a stress free holiday!
We were invited to review the gorgeous Brisbane Marriott Hotel​ for our staycation and had an amazing time.  Here were our highlights from the weekend: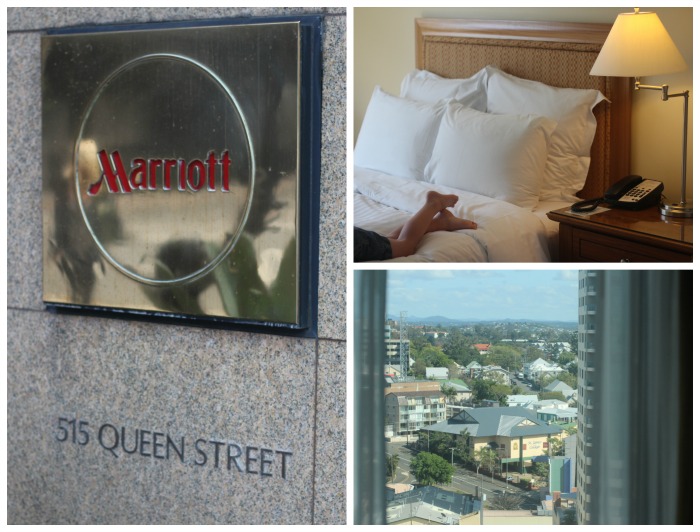 The Brisbane Marriott is right in the middle of the city, and it would be easy to fill up a whole week of excursions within walking distance.  But one of the best things about the Brisbane Marriott is that they offer family friendly deals year round.  There is currently a special offer to receive 50% off an interconnecting room (valid until 26 January 2016).  If you have a family like ours (5 people), deals like these are important for keeping holidays affordable.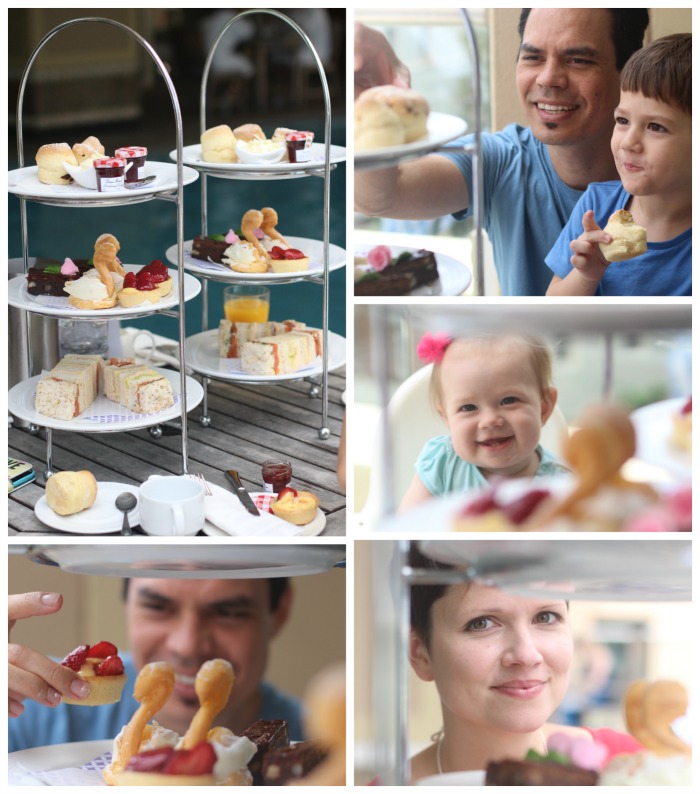 High Tea at the Marriott poolside was simply amazing.  Overlooking the city from the fourth floor, and smiling at each other through the tiers of yummy treats, it was definitely a special memory that will be cherished for many years to come.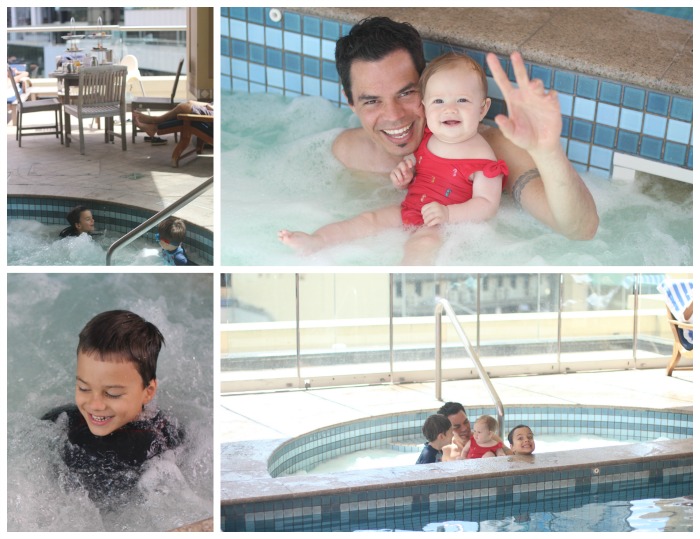 After High Tea the kids couldn't wait to jump into the pool and spa.  Baby girl had her first swim, too!
The Marriott is an easy half hour stroll to the Southbank area which has tons of fun excursions for families.  We decided to visit the Queensland Museum's Sceincecentre where there was a special Rescue Exhibit on.  Right nearby is the Gallery of Modern Art, the State Library, Southbank Parklands, boat rides, the famous Wheel of Brisbane, and many other family friendly tourist destinations.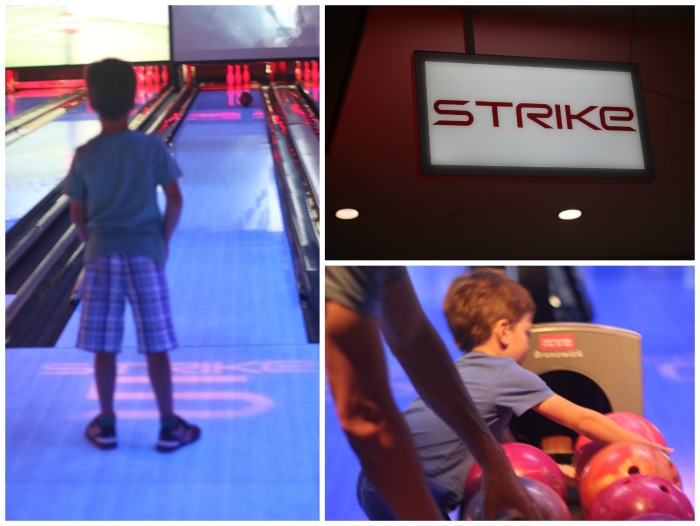 Just ten minutes walk from the Marriott, Queens Street Mall features a huge range of shopping and a variety of restaurants, plus on the weekends there are usually quite a few live performances going on.  After watching several buskers, we enjoyed bowling at Strike which was a new experience for the kids and a great activity for family bonding.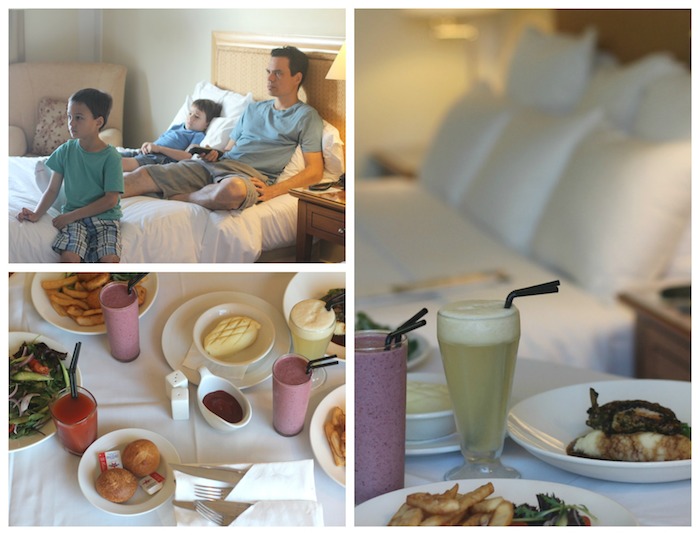 After a fun filled day, it was time to sit back, enjoy the comfy beds, and see what was on TV.  We ordered room service for dinner which, I have to admit, is what really made me feel like we were on vacation.  Not cooking or cleaning dishes is a true treat for this mama!
I was really pleased with the Marriott menu as it had a nice selection of kids meals plus a yummy smoothie and juice range which was a healthy treat for the kids.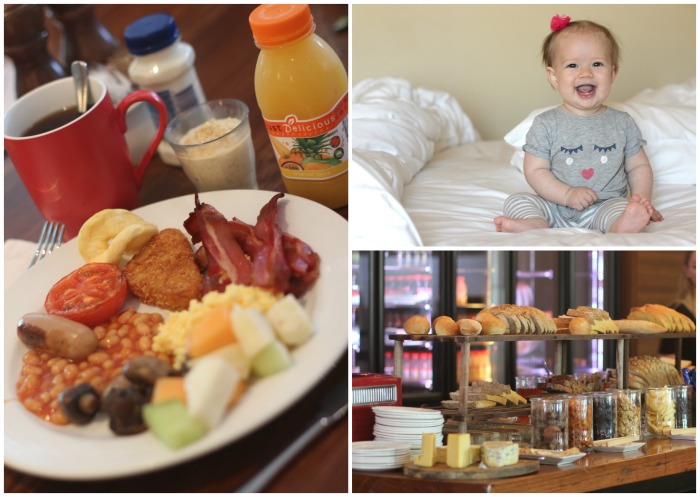 After a good night's rest, we woke up refreshed and ready to dig into the buffet breakfast that we had heard about at check-in.  There were waffles and omelettes made to order, fresh juices, yogurts, pastries, all our favourite hot breakfast items, plus a range of gluten free options as well.  Truly scrumptious.
We had an awesome time at the Brisbane Marriott Hotel and I wouldn't hesitate to book a holiday there again!  Of course next year our family will be traveling around Australia – so for more tips about kid friendly travel and to see highlights as we make our way around the country, be sure to sign up for my newsletter.
To check out the offers currently available at the Brisbane Marriott, click here.
Have you been on a "staycation" with your family?  What was your favourite part?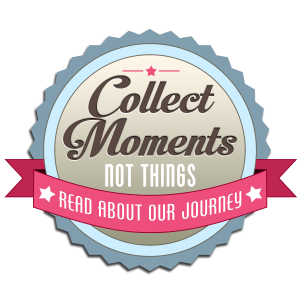 We were guests of the Brisbane Marriott for the weekend.  All opinions are my own.  To read more about reviews on my website, visit this page.