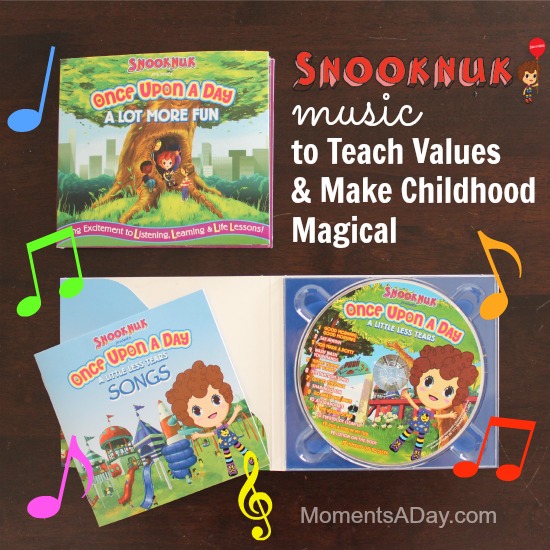 Music is a powerful tool to create atmosphere and bring joy.  It is also a fun way to teach children values and help them memorize various phrases.  Today I'm sharing an interview with Cheri Moon, the artist behind Snooknuk.  Snooknuk's CDs in the Once Upon a Day series, Volume I and Volume II, are two of my family's favorites!  We love the sound and, more importantly, the messages the music promotes.
To hear my kids singing about how we should try again, listen, and be patient is priceless!
Chelsea: I am so excited to share your music with my readers. My boys and I have been jamming to it every day since we received our CDs, and my husband loves it as well! We always end up dancing. What kind of style would you say your music is?
Cheri: I love hearing that you guys are just dancing away. That's exactly what I wanted, kids to have fun while learning! And you Big Kids too 🙂 Snooknuk touches on many styles and genres. We wanted the style to be classic and timeless and the music to take you on a journey with each individual message.  So the lyrics are simple but the music is fun and dynamic.
Chelsea: I was really touched by the messages included in your music, such as sharing and accepting that every person is different. What do you want listeners to take away from your songs?
Cheri: I think all the messages I sing about are the things we most want our kids to learn. So I figured let's make those moments in our lives into a musical so it's memorable for them. I wanted to definitely touch on basics like brushing your teeth, eating veggies, sharing but I also wanted to include deeper topics such as strangers, friendship, being afraid of monsters, patience and more. It can be difficult to talk to kids about certain things or for them to even remember what you say.
Chelsea: Do you have a favorite song from your albums? Or is there one that has been the most popular?
Cheri: One of the popular songs so far is "You Made a Potty" I think because potty training is by far one of the most difficult tasks and this song is like a celebration. It makes them dance. Also the video for the song is on Youtube and it's FUNNY. It's reached over a million views!
But kids also love "At Grandma's" (it reminds them of a circus) & "Rub A Dub in my Tub." I love "Nice to be Nice" and "Tantrum Song."  "Tantrum Song" keeps going faster and out of control then slows down sort of like a real tantrum. So I thought it was funny.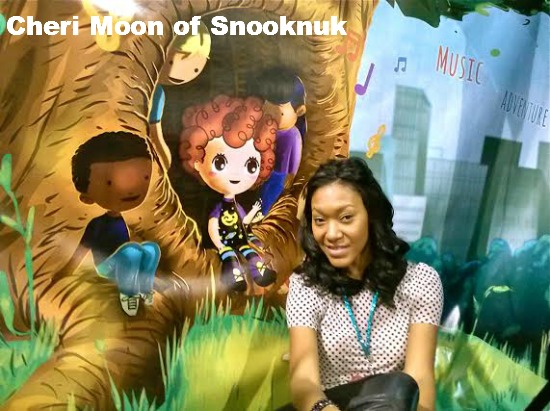 Chelsea:  My boys, especially my two year old, LOVE the potty song – I actually took a video of them playing to it!  But seriously all the tunes are so catchy that they totally get stuck in my head  and I end up singing them all day!  I love the beats. Did you write the lyrics and the melodies? Do you have a background in music?
Cheri: Yes, I've had Pop songs on the charts as an artist (Cheri Moon) as well as sang and written on many TV commercials. Music & Entertainment has always been my life. I came up with Snooknuk lyrics, melodies, ideas through my daily life with my own kids. And I collaborated with my friend/producer Sandy Chila who did the amazing compositions. We wanted to make the music so that parents would enjoy it too.
Chelsea: Can you tell us a little about yourself, your background, where you are from and about your kids?
Cheri: I was born in Memphis, TN but spent most of my life in NYC writing and  performing. I had the privilege of working with talents like Timbaland, & Missy Elliott. When I became a mother of 3 children, OMG!! My center became their growth and happiness. I really began to enjoy engaging, singing and motivating them! Ultimately it motivates me! I want to continue to produce music, videos, shows & other products that will entertain kids and families and make childhood more magical!
Thank you so much Cheri for sharing your music with us!
To learn more about Snooknuk, visit the website and join up on Facebook, Twitter, and Youtube.
Enter the Giveaway
This competition is now over.  Congrats to Chelsy who was the winner!
Would your family like a copy of the Once Upon a Day series, Volume I & Volume II?  Simply comment with your answer to the question below to enter the giveaway competition.  The most compelling or creative answer will win.  The contest ends on 25 January 2014 at 9pm EST, and the winner will be mailed the CDs!  This giveaway is open to residents of all countries.  Please be sure to use a valid email address.  The winner will be contacted to request mailing details and if we do not receive a response within 5 days, a new winner will be chosen.
Answer this question to enter the giveaway:
What is one message you would like your children to learn through music?
This post was sponsored by Snooknuk.  For details about reviews and advertising on my website, visit this page.