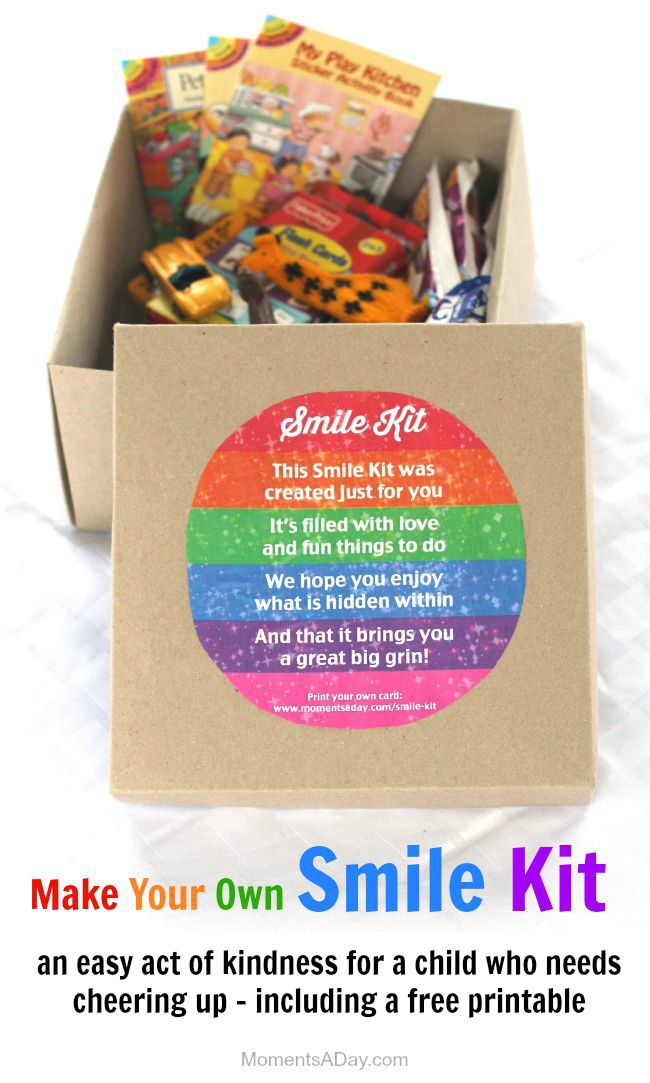 If your family made the decision to do three acts of kindness together, what would you do?
This post shares the second of our family's "kindness outings" inspired by the #FordThinking challenge as part of Kidspot Voices 2015.  You can read about our first outing here.  We have been given a Ford Kuga MKII plus petrol vouchers for six weeks and we decided to use it as an opportunity to go on three outings that would pay it forward.
One of our goals was to reach out to a new friend who recently gave birth to her fourth child.  I remember when I had my own newborn and someone dropped off dinner it was a huge relief, so we decided this would be a good project.
Truth be told, I used to avoid making food for people because I never cook anything fancy and I was afraid they would not like what I made.  But I have since gotten over my fears because I know how much I appreciate even simple foods… so now I just do what I can and trust it is enough.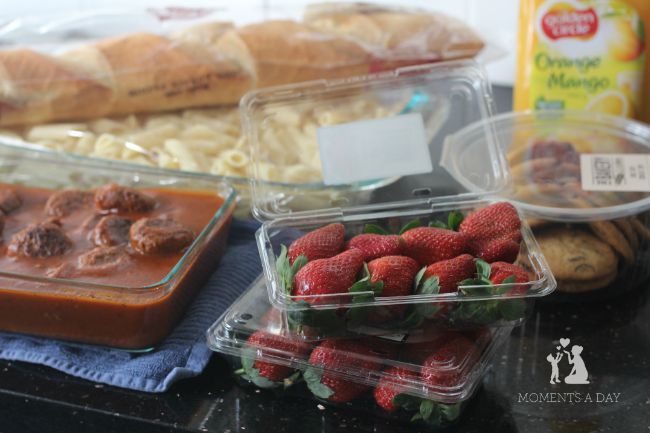 As you can see, the meal I prepared was completely manageable.  It took less than half an hour to boil up some pasta, then cook the pre-made meatballs and sauce.  We got french bread and juice to go along with it, and the boys enjoyed picking out dessert – strawberries and chocolate chip cookies from the bakery.  Easy peasy.
While I thought about what else we could do for this lovely family, I reflected on what most helped me after having my third baby six months ago.  When people came over and played with my older kids, I felt supported because I knew the older kids were getting some much needed extra attention.  This was attention that was hard for me to give while caring for my newborn and recovering from labour.  It was also nice when people brought the older siblings a little gift, as many visitors tend to bring a present for the new baby and the bigger kids can feel left out.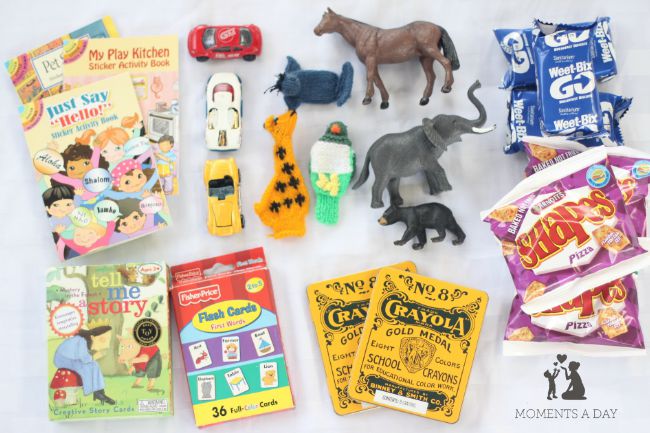 So I decided we could put together a little collection of toys, activities and snacks for the older kids to enjoy while mama was busy with the newborn.  And just for a bit of fun, we decided to name it a Smile Kit.
Smile Kit
Here's what we included:
Mini sticker books
Story cards
Flash card puzzles
Matchbox cars
Finger puppets
Animals
Colouring tins
Snacks
Some might worry about the cost of putting such a kit together but, besides the food and sticker books, all the items were pre-loved.  We regularly go through our toys to declutter, so the boys were happy to choose a few things to give away.  I personally try to give away items we do not need anymore instead of purchasing cheap things that will soon break and be thrown away… often toys outlive the play time of one family so it is nice to be able to pass them on to be enjoyed by someone else.  If we did not have anything suitable to give I probably would have created a few little activity books made with free printables I found online (mazes, jokes, word searches, colouring pages, etc).  In any case, Smile Kits do not have to be expensive projects!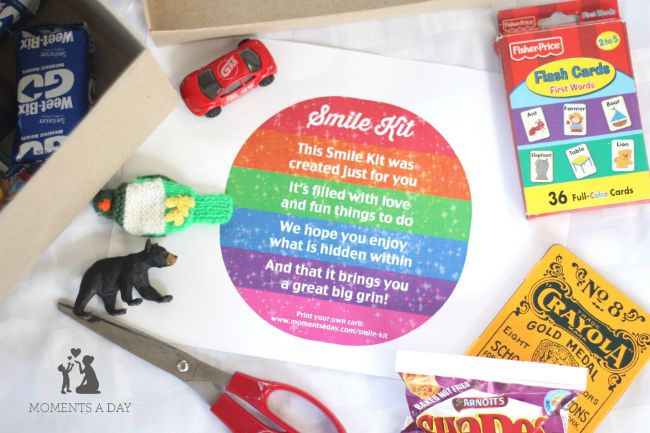 You can include anything you want in a Smile Kit.  You could give the first clue to a treasure hunt (leading the child to a little treat at the end), some of your personal DVDs they can give back after a month or two, or even a few books lent from the library – just be sure to offer to pick them up to return before the due date so the mama does not have an extra errand to run!  Extended family members might want to create "coupons" for outings such as a trip to the museum or after school excursion to the ice-cream shop.  The contents of a Smile Kit are only limited to your imagination!
Here is the Smile Kit poem I wrote:
This Smile Kit was created just for you
It's filled with love and fun things to do
We hope you enjoy what is hidden within
And that it brings you a great big grin!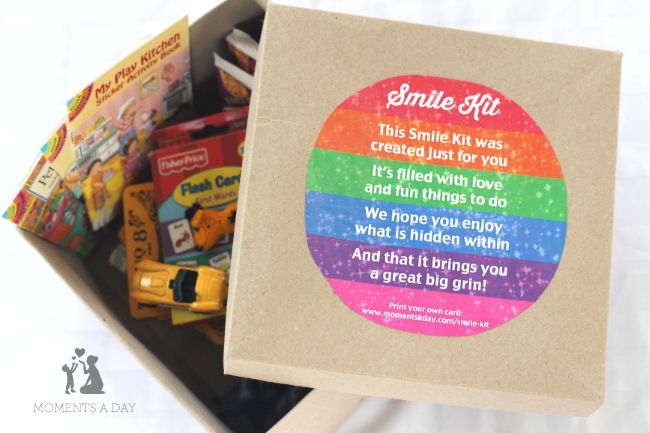 If you want to use my Smile Kit poem, the file is a JPEG image so that you can resize it however you want.  I printed ours on a full page to glue onto a box we had, but the poem could easily be made smaller and attached to a card instead.  I also included the web address for this article so recipients can create their own Smile Kits as well.

Smile Kits are not just for big siblings, either.  They would be great for kids who are in the hospital or spending time sick or injured at home, as well as for children who may have recently experienced the loss of a pet or a difficult situation like a best friend moving away.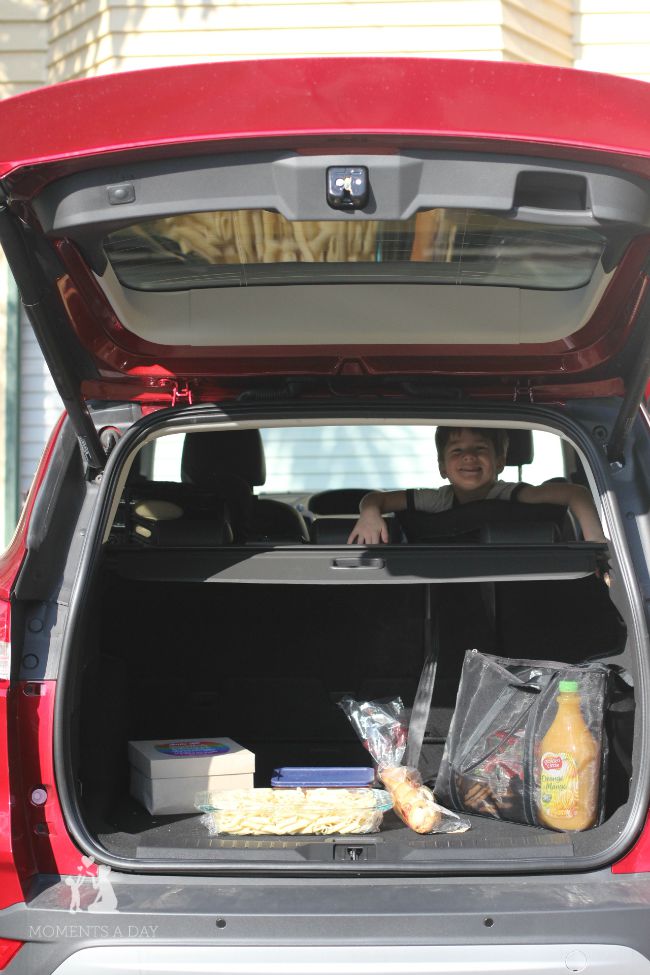 After getting the meal and Smile Kit together, we went out to pack up the Ford Kuga and be on our way.  It was a beautiful sunny day in Brisbane, and splendid weather for an afternoon drive.  My four year old could not wait to get going!  He always gets a thrill out of seeing the boot open up "by itself".  I have really enjoyed using double click button on the key fob to automatically open and close the boot because it means I do not have to put down what I'm carrying (like a small baby!) to pack the car.  This feature has been great for getting all our gear in the car during school pick ups and drop offs, and seems to be a bit of "magic" to the kids.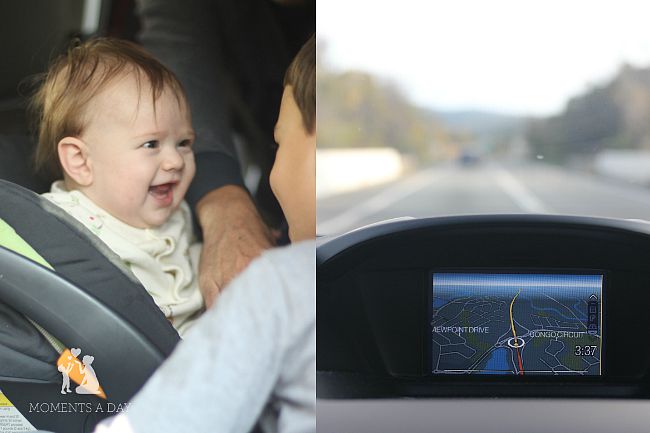 Honestly, having three young children and living in a suburb that has most everything we need, we rarely go on long drives.  And by long, I mean over fifteen minutes.  So a thirty minute drive in a brand new car was a bit of a novelty for everyone.  My little girl is now old enough to engage with her older brothers in the back seat which got us off to a great start.  We entered the address into the built-in GPS and went for our first cruise in the Ford Kuga on the highway!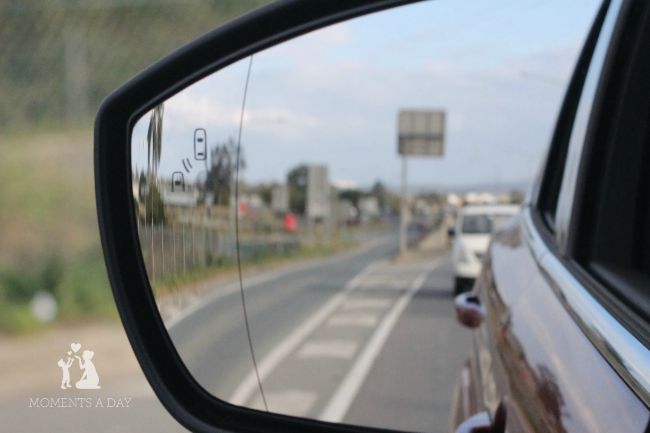 Once out and about, I realised this trip was the perfect opportunity for us to try out the Blind Spot Information System.  This is a really neat feature where a light on both side mirrors can indicate whether someone is in your blind spot.  Obviously I could not take any photos while driving so here are some from the passenger seat.  If you look in the top left corner, you will see the little car symbols.  Right now there are no cars in the blind spot…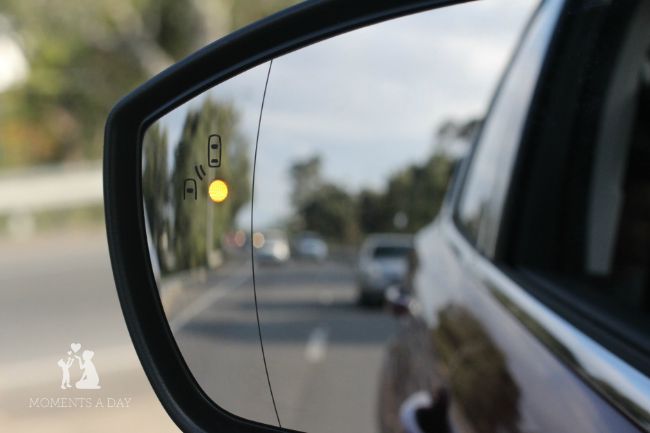 …but in this photo, you can see the light is on which tells you that there is a car in your blind spot!  Notice how you cannot even see the car in the mirror itself.  This is such a useful feature and after using it a lot more since that day, I already feel more secure driving in traffic especially with motor bikes zipping in between lanes.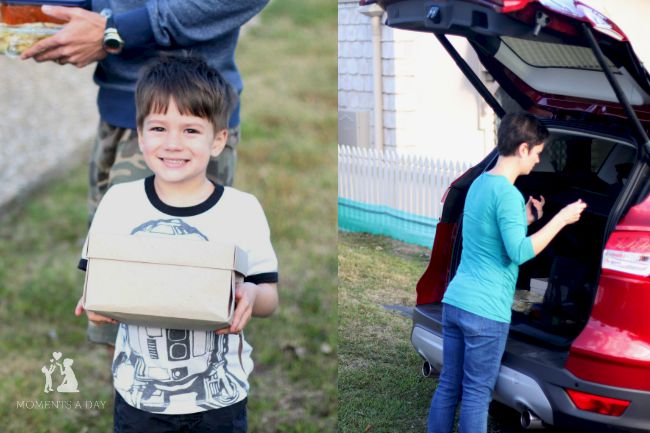 After a smooth drive, we arrived at our destination to deliver dinner and the Smile Kit.  The family was very thankful and it warmed our hearts to make the evening a little easier for them.  Plus it was so nice to see a gorgeous four-day-old baby, what a cutie she was!
I look forward to making more Smile Kits in the future.  It will be fun finding different combinations of items to include, tailored especially for each recipient.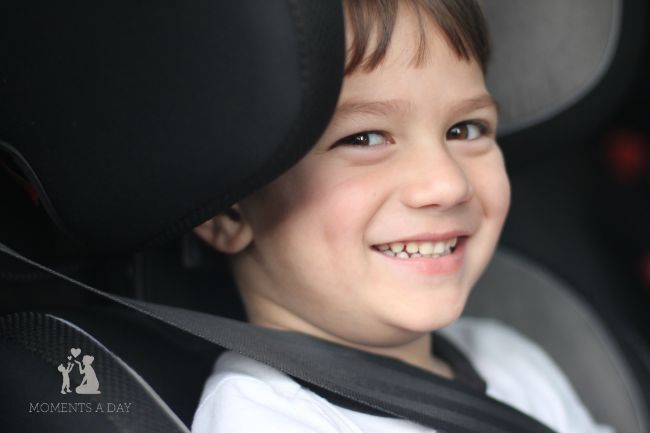 Until next time, take care, and we hope to see you in a couple weeks for the last of our "kindness outings" thanks to #FordThinking!
Does anyone you know need a Smile Kit to cheer them up?  Would you like to make them one?
Check out our other #FordThinking "kindness outings" here:
I'm participating in the #FordThinking challenge as part of the Kidspot Voices 2015 competition, for which Ford has provided me with a Ford Kuga Titanium for six weeks as well as some fuel vouchers.  All opinions expressed in this post are my own. You can follow along with the other bloggers participating in the challenge by searching the hashtag #FordThinking.  To read about sponsored content on my blog click here.