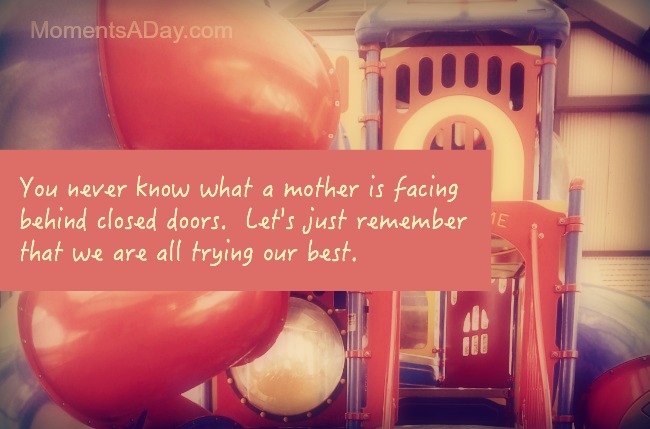 It was Saturday afternoon and my husband was on the weekend shift.  I had tried to plan a few playdates during the week but everyone was busy with their own family stuff – and we have no family closer than 3 hours by plane ride – so it was just going to be me and the kids for the day… after a long week solo parenting as well.
When I woke up, it was like I was already running behind… would I ever catch up?  I had been up most of the night with a congested baby.  We were low on groceries, and I had other errands to run too (post office, pharmacy).  It was raining but the kids reeeeally needed to run around.  My throat was sore (it had been for nearly a week) and I still hadn't given any thought to it – so it was not getting better.  The baby had just woken up from too short a nap.  And I just had to get out of the house… or I knew things were going to continue to go down hill.
So I took the kids to our local fast food chain, mostly so we could use the playground.  This is actually one of my survival tactics, so it was definitely not the first time.
While I was there, I caught myself thinking, "What if someone I know sees me here?  I'd be so embarrassed!"
It turned out to be an awesome outing.  My kids played for nearly 2 hours with three different sets of kids – kids that only stayed for 20 minutes before their parents called them to go because they had somewhere to be.  But I wasn't in a rush so we stayed until we were all ready to head out.  By the time we left, we were all re-set and it wasn't a bad day after all.
Later that night I started thinking… why did I care what other people thought?  I came to the conclusion it was because I thought I would be judged.
Was I holding myself to my standard, or someone else's?
I've been thinking a lot about judgement since that day and thought I'd share some articles I found.  It's not easy to open up my heart online and I do get comments sometimes that make me second guess my willingness to share… because people do judge me.
Please don't get me wrong.  I think it's only natural to have opinions and disagree sometimes – but behind a computer screen people somehow feel it's okay to be a bit less sensitive about expressing themselves (I actually read a comment directed at an article of mine the other day that said "Does this lady live in the real world?").  Because these words are read and not heard, I think the hurtful comments are a bit less confronting than in "real life" but it's judgement just the same.
Why do we do this to each other?  There are many different reasons, and I don't necessarily think we should NOT express our opinions… because that's how change happens (think about raising awareness about the harmfulness of a once acceptable practice – spanking – for example).  We all need to grow, and not all decisions may even be in the best interest of everyone all the time (for instance, I know it's not good for my kids to eat junk food).  In any case, it has been helpful for me to think about and I hope you will gain some insights from these articles too:
It's ok to make different choices – Picklebums
Who, me? Judgemental? – Twodaloo
Open Home – The Plumbette
Don't Try and Be the Mum You're Not – Be a Fun Mum
You are a Supermom and So Are You – Four Plus an Angel
We are all just doing our best.  Let's learn from each other and learn to respect each other, even with our different choices, too.
—–
My Reflection Series features resources to inspire intentional and compassionate parenting.  Each instalment of the series shares a photo with a simple insight, plus five links I have found motivational during my current journey as a mother.
To find more inspiring links featured in the series click here or go here to see more of my parenting articles.  You can also sign up for posts by email if you would like the series delivered to your inbox.
If this is your first visit to Moments A Day, I also invite you to join me on Facebook, Pinterest, Twitter, Instagram and/or Google + where I share more ideas to help families connect, build character, and make a difference in the world.
Take care and I hope to "see" you again soon,
Chelsea