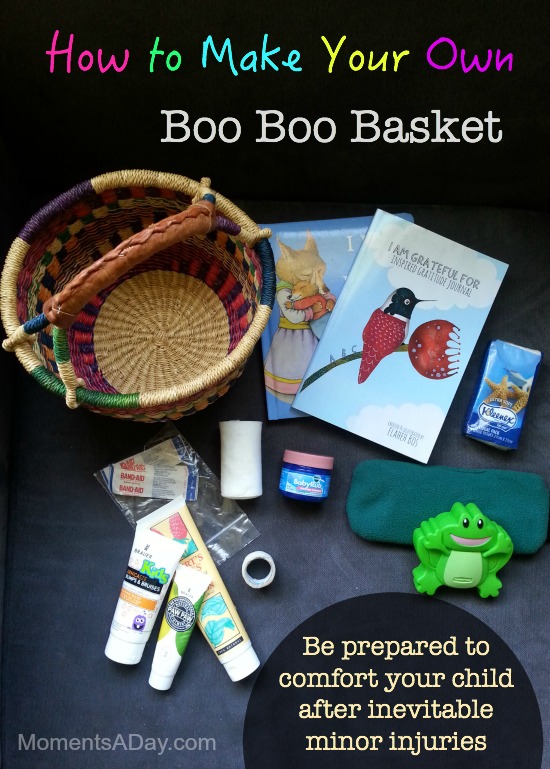 Bumps and bruises are just a part of life.  To children, however, they can be a really, really big deal.
In general my kids aren't very fussy after falls or tiny scrapes.  I have always had the rule that if it's not bleeding, it does not need a bandaid.  However that does not mean I do not try to comfort my kids after they have been hurt.  I don't like to make things a big deal by over reacting – on the contrary, I try to take my child's lead to see how they are feeling.  If they brush it off, I don't worry about it.  If they think it's a big deal, I listen and do my best to respond lovingly (even if I'm not quite sure why this particular instance bothered them so much).
Making sure my child feels safe and cared for is important to me.  Many times, this means simply taking the time to offer a warm hug and all will be well.  There are times however that a few supplies would be nice to aid in the healing process.  Therefore I created what we call our Boo Boo Basket.
What's a Boo Boo Basket?
A Boo Boo Basket is mostly meant to offer comfort after minor injuries.  We do not keep regular medicines inside it – those are in our Medicine Box which is used less often.  We do however keep a few bandages and more natural remedies, plus some items that will help a child calm down and relax after being upset.
I keep the Boo Boo Basket out of reach of the kids mostly because there are messy liquids inside (especially in case we have curious young visitors) and also because it is simply not a toy.  However the basket lives on top of the bookshelf in my sons' room, making it easily accessible.
Want to see what's inside it?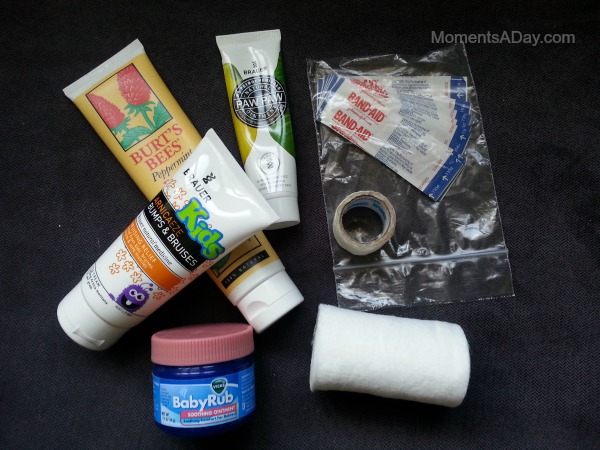 Boo Boo Basket supplies:
*Bandaids/plasters – whatever size(s) you think necessary.  We also have a roll of soft bandages plus medical tape to secure it for larger scrapes that plasters won't quite cover.
*Favourite ointments – we mostly use papaw ointment and another homeopathic rub, but everyone should of course use whatever their family finds most helpful.
*Chest rub – this is great for the common cold, especially if applied just before sleeping.  Having it in the kids' bedroom reminds me to use it when there's a cold going through the house.
*Lotion – this is mostly for comfort.  My kids love to have their backs, legs and feet massaged especially when feeling unwell.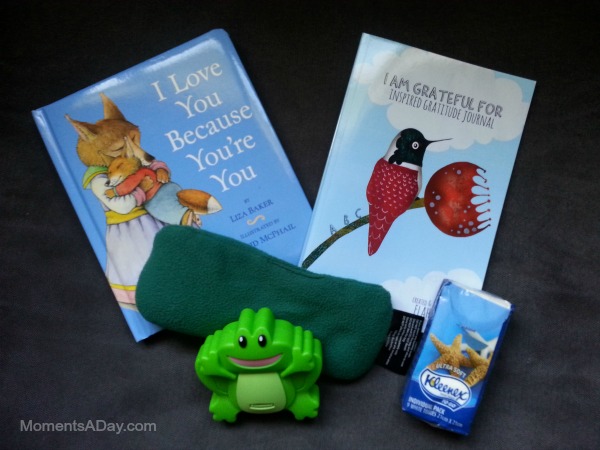 *Heat pack – we use one heats up in the microwave, though you can also get the kind that you fill with hot water.  Great for tummy aches or soreness.
*Ice pack – this is the one item that doesn't actually live in the basket but in the freezer.  I keep this particular icepack reserved for "boo boos," meaning it does not travel in lunch boxes.
*Kleenex – for wiping those sweet little cheeks, of course.
*A couple favourite story books – I occasionally exchange these books with others on the shelf just to keep it fresh, but basically a few positive books to connect and relax.  The two pictured are I Love You Because You're You
 and I am grateful for – Inspired gratitude journal. (affiliate links)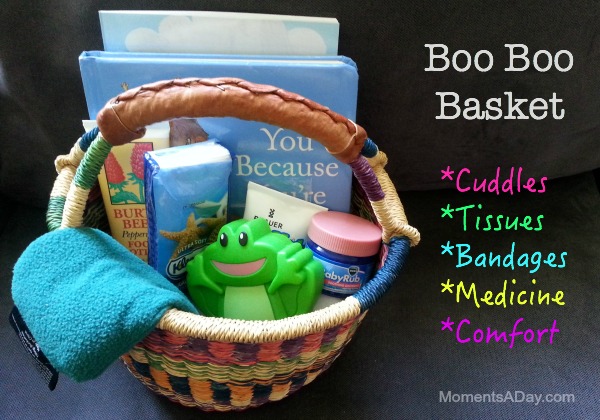 Having this little "kit" of healing supplies together simply makes it easy for me to comfort a child who is hurt… and also means I won't be rushing around trying to find a bandaid when my child is crying for me to help.
Each family might have a different set of materials that would address their particular personalities and preferences.
What would you add to your Boo Boo Basket?
This post contains affiliate links.  To read more about advertisement on my website, visit this page.