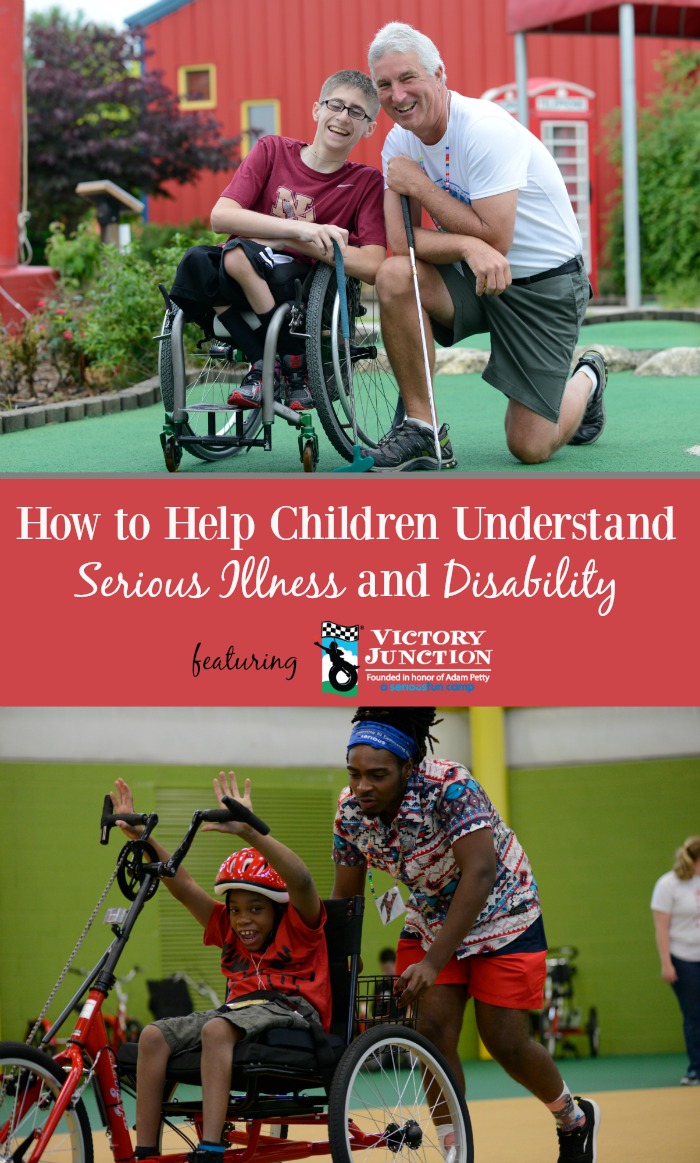 Disabilities and serious illnesses affect so many people around us.  Sometimes we can see some of their challenges with our own eyes, other times we cannot.
Today I'm honoured to share an interview with Mark Schumacher, the Chief Development Officer of Victory Junction which is a camp in my home state of North Carolina that enriches the lives of children with chronic or life-threatening illnesses.  I hope his words shed some light on these issues and provide inspiration for how we can potentially help families facing these challenges.
What are the benefits of raising awareness about how chronic or life-threatening illnesses affect children?
Awareness breeds understanding, understanding breeds acceptance, and acceptance is where self-confidence and self-esteem can be found.  Children, and adults too, who have some sort of medical challenge don't want to be separate or have to sit on the sideline. The work we do helps build the awareness that the children we serve are children first. They want to have fun, like every other child. If those around them understand that simple truth then these kids won't feel isolated or alone.
How do you begin a conversation with a child facing serious illness?
I am the father of a cancer survivor, so I have heard the good ways and the bad ways to approach a child who has a serious illness. What I always say is, just talk. Don't make their illness an issue and don't dance around it either… Be straight. They will appreciate that you are matter of fact. Kids dealing with a disease or disability appreciate honesty and candor. If you have a question ask it. "How are you feeling?" might not be the best icebreaker. "What's going on? How's it going?" are better.
Tell us about Victory Junction and how you are supporting children with chronic or life-threatening illnesses.
All of us here believe that every child, no matter their diagnosis, illness or disability deserve the chance to just be a kid! So we have created a camp/NASCAR theme park where children with medical challenges can do things they never thought possible, all in a medically safe environment and at no cost to the camper. Everything accessible so there is nothing a child can't do from ziplining to bowling to splashing in the water park to playing kickball in our indoor Superdome. We want children who live in a world of boundaries and limitations to feel what it's like to not have either and to have those "once in a lifetime" type of moments.
What are some ways for families to get involved in helping?
Many of the people who help us deliver the amazing care and experiences we offer at Victory Junction are volunteers. We have numerous opportunities for people to get involved in a hands-on way. For adults, volunteering is awesome. For kids, we see so many who put together fundraisers to support the children we serve, or they can lead the way with our constant needs for blankets/quilts and our VJ Bears. Each camper gets to keep one of each when they stay with us. Kids can also take part in some of our events like our Run To Victory so they can see camp and have fun with others who are there to support what we do.
How to Help Children Understand Disability and Serious Illness
Reading and discussing the experience of children and parents facing these challenges can help everyone begin to understand and empathise.  Here are some articles that can offer insight into raising children with disabilities:
To help children develop insight and compassion, here are some lists to take to the library:
Now for some details about how you can help families right now:
Victory Junction allows kids from all over the country to have the opportunity to enjoy normal childhood experiences in a NASCAR-themed medically sound facility – all while hanging out with top NASCAR drivers like Richard Petty, Joey Logano and Dale Earnhardt Jr.  Typically it cost US$2,500 for one child to attend camp but thanks to supporters no family ever incurs that fee.  Visit the website to find out more about what this camp offers and to offer a donation.
Getting involved in an organisation such as this – either through donation or volunteer work – is definitely something I am keen for our family to do together.  From experience, I volunteered with Special Olympics as a teenager and it had a very meaningful impact on the way I viewed children with special needs so I would like my children to have a similar opportunity.  I hope one day our family will be able to volunteer for Victory Junction as we visit North Carolina every year or two!
Do you have any other suggestions for teaching children about disabilities and serious illness?
Or how you can help raise awareness and empathy for families dealing with these situations?  
Please share your wisdom in the comments.
Mark Schumacher joined Victory Junction in June of 2014 as Chief Development Officer. He is part of the camp's leadership team and responsible for leading all fundraising and marketing efforts for Victory Junction. Mark came from the Miami Children's Health Foundation which supports the work of Nicklaus Children's Hospital (NCH) where he served as the Executive Director of Development overseeing the individual, corporate, foundation and planned gift programs. An accomplished development executive with an extensive background in children's healthcare, Mark created, hired and trained the first development team for the Broward Health hospital system as their executive director. He also launched the major and planned giving programs for Make-A-Wish of Southern Florida. In addition, Mark acted as a special consultant to the president of the Arnold Palmer Hospital for Children and its foundation in Orlando.
Prior to his work in not for profit development, for 25 years Mark was a broadcast journalist, the last 12 years at WPLG-TV Miami as a reporter and anchor. His personal experience as the father of a cancer survivor (his son Casey was diagnosed at age 5) inspired his move to focus on helping organizations that care for children with serious medical conditions. Casey is now a graphic designer/art director for a marketing firm in Florida and daughter Julie is a graduate of the United States Naval Academy and serves as an officer in the United States Marine Corps. His wife Donna is a home hospice nurse. They live in Greensboro, North Carolina.