Are you looking for a way to encourage your daughters to live life to the fullest, follow their dreams, and feel confident in themselves?
This post is an interview with Lily Dyu, author of Fantastic Female Adventurers: Truly amazing tales of women exploring the world.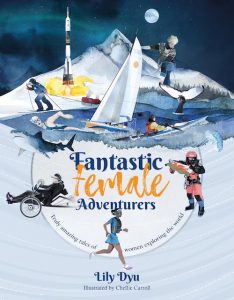 Fantastic Female Adventurers is a collection of fourteen exciting and inspirational stories about modern day female adventurers, with beautiful illustrations by adventurer and artist Chellie Carroll. It features a diverse range of voices including: Emma Timmis who rode an ElliptiGo across Australia; round-the-world cyclist Jin Jeong; ocean swimmer Beth French; mountain runner Mira Rai; Britain's first astronaut Helen Sharman and many more.
Through this book we want to encourage as many boys, girls (and adults!) as possible to enjoy the benefits of having adventures in the outdoors.  And we hope these stories will show them that they too can do incredible things.
What inspired you to write it? 
A couple of years ago I was looking for a book about modern-day female adventurers and explorers as a gift for a friend's daughter, Francie. When I couldn't find anything, I started to wonder whether I could write something myself, but I didn't take the idea any further. Then, not long afterwards, I was out on a run while listening to a podcast about gender stereotyping in children and I was shocked to hear that early in primary school many once-bold little girls start to experience self-doubt while some boys have learned to use 'girly' as a derogatory term (and as we've recently seen in politics, that's something can long outlive the playground). That was the catalyst and the moment that I decided to write the book.
How do you envision parents and educators using this book?
The stories are perfect for reading with children individually or in the classroom. The adventures cover a range of activities and physical environments around the world; there is a strong environmental theme running through them, and plenty of science and geography that can be used for class-based projects. Alternatively, educators could focus on the women, for example by discussing what makes each of them inspiring and asking the children to go and research and then write about a person (not necessarily from the world of adventure) who inspires them personally. 
What sort of feedback is the book getting?
The book was published on October 3rd and I've had some lovely feedback such as:
"Inspirational stories from a diverse group of amazing women, written in an engaging and accessible style." (a teacher in London)
"We started reading it for bedtime and we're both enjoying it. I very much appreciate that you have written this book. It's very important for girls to have this because most stories and films are still oriented towards boys, even in 2019." (a mother of a 9-year old girl in Scotland)
"I ordered this because I want to show my little girl what she can achieve." (a mother on Twitter)
If readers learn one thing from your book, what do you hope it would be?
What inspires me in many of the stories is seeing how far you can get and what you can achieve if you "just try" and give something a shot regardless of the outcome. Failure and mistakes, if they happen at all, are simply part of the learning process. I think that many people would probably surprise themselves if they applied this approach to things that they're daunted by. Adventures really don't need to be big and I'd encourage everyone to get outdoors and try something slightly outside their comfort zone because you never know where it may lead you.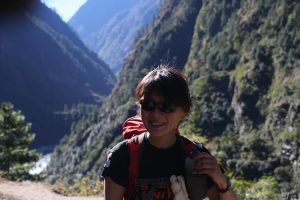 Thank you, Lily, for sharing this amazing resource with the MomentsADay.com community!
For more resource to help kids build character and make a difference, check out the "Resources and Reviews" page.