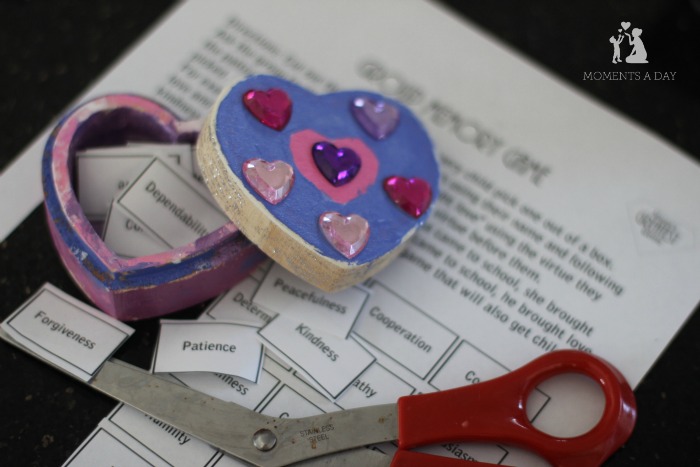 My youngest son, who is now a few months shy of 5 years old, loves to paint and create.  I have to admit that over the past year, after becoming a mother to three kids, it has been more challenging for me to offer lots of messy play activities including arts and crafts.  The baby needs attending to and I am not always able to be as hands-on as my kids might need during these types of projects.  So in order to keep on top of offering these sorts of opportunities which my son enjoys so much, I really appreciate ready-to-use craft kits.
This gorgeous Wooden Heart Box from Child.com.au was the perfect candidate for a project I had in mind to talk to the kids about mining their inner gems (virtues like patience, honesty, joyfulness, etc).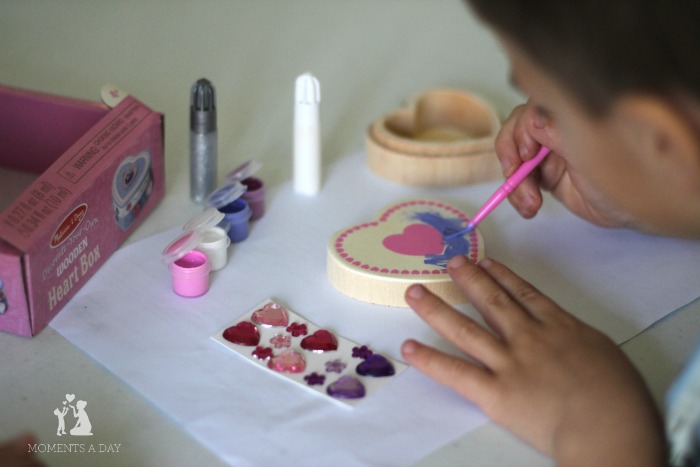 Teach Kids about Mining Their Inner Gems
My son thoroughly enjoyed the kit which included:
Painting
Applying glitter
Gluing gemstones
It offered enough room for creativity while still being easy enough for him to do himself.
As the box was drying, we talked about how we keep lots of beautiful virtues in our hearts – represented as gemstones in the storybook Mason's Greatest Gems.  I used the free printable based on the book (which you can find here) for the list of virtues.  We cut them up and put them into the box.
I plan to use this box to play various virtue games over the next few weeks.  Charades and pictionary will definitely be on the list.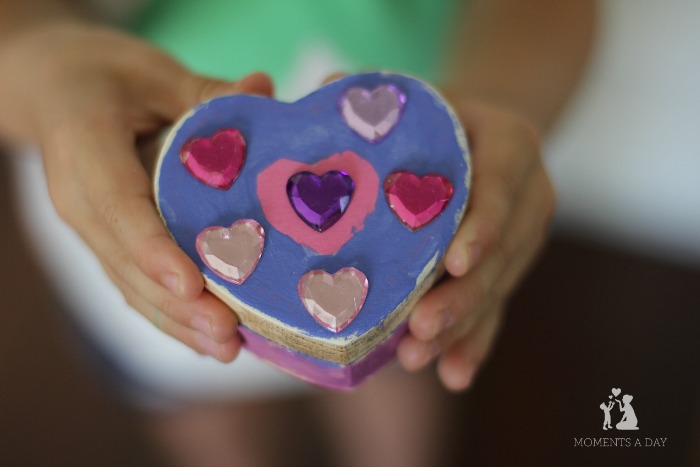 This craft kit was perfect to explain the concept of polishing our inner gems throughout the day.  My son loves the way his heart box turned out and it will be fun to incorporate a homemade craft into more of our daily character education lessons!
You can find more character building activities on this page.

Over the course of 2016 I will be visiting 10 schools around Australia to read my storybook Mason's Greatest Gems and talk to the kids about building character.  Thanks to Child.com.au for sponsoring these lessons and giving each school a $100 voucher to use on educational materials for their students!  Child.com.au has a great range of materials for homes and classrooms, from imaginative toys to math games to science kits and more.
Last month I was honoured to visit Goodna State School where I presented to about 120 Grade 2 students.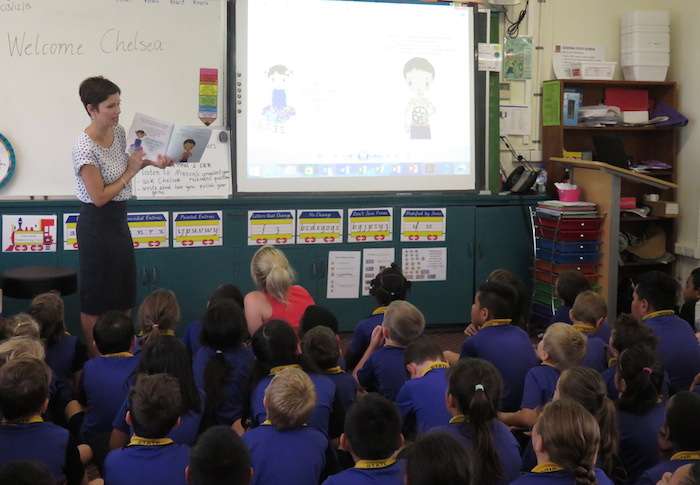 One of my most memorable moments of the visit was when a little boy asked me if it was a challenge to write the book.  I got to share about some of the process my co-author and I went through of writing, editing, reviewing, grammar checking, and planning illustrations to represent the concepts – and I hope that I encouraged the kids to keep going with a project even if it's hard.  Yes it was a challenge but I got to practice many virtues like determination, patience, creativity and more!
Sign up for my newsletter to receive activities, book suggestions, inspiration and articles about helping families connect, build character and make a difference in their communities.
Thank you to Child.com.au for sponsoring this post.  All opinions are my own.  To read more about reviews on my website, visit this page.