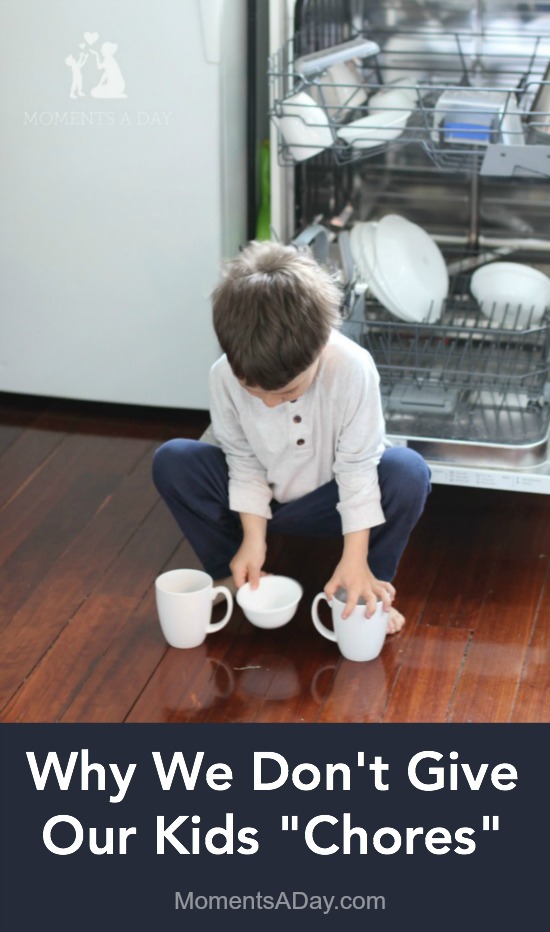 Over the past few months, my husband and I have been concentrating on helping the kids become more involved in household duties.  At some point we simply realised that they were perfectly capable of doing more around the house and we figured giving them some tasks would do a number of things including:
-Foster more personal responsibility (oh, we have no dishes to eat on if the dishes aren't washed and put away!)
-Develop their capacity for housework (how do I separate light and dark clothes for the laundry?)
-Teach them what it means to be an active member of the household (everyone can be involved in caring for the home, and this makes family life more enjoyable for all).
As I mentioned in this post, which is about nurturing compassion in boys, I think it's especially important to instil patterns of behaviour in our sons that are focused on caring for others.  As women and girls stereotypically get tagged for jobs such as cleaning, cooking, and organising the house – I am trying to be especially conscious of giving my sons opportunities to develop these capacities so when they get older they are comfortable and capable of handling these jobs as well.
When my husband and I first started talking about how exactly we would encourage our kids to do more around the house, we came up against the word "chores."  My husband had a strong aversion to it, mostly because he had the association of chores with payment (an "allowance").
As we discussed it more and more, we realised we don't want to teach our children that they have certain tasks around the house that they begrudgingly feel they have to do, or they only do so they can earn some money.  We want to teach them to enjoy helping others – and helping themselves.  After all, our ultimate goal as parents is to help them learn to live a life of service, and this includes in and out of the house.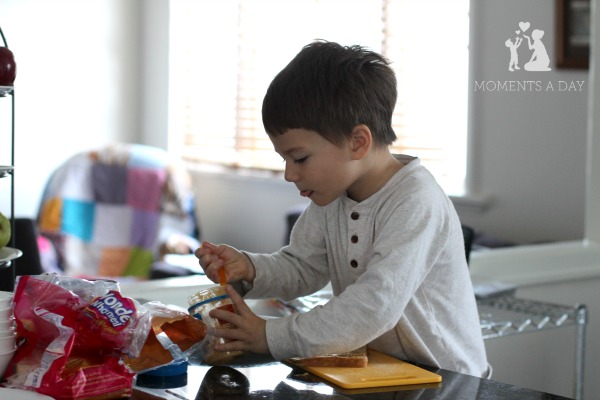 So my husband came up with the term family service.  It really makes sense because the kids see us (mother and father) serving the family every day, and so it's easy to understand that everyone in the house has the opportunity – and responsibility – to contribute.  We all serve each other!  No one has to do "chores," but we do tasks each day that serve our family.
My husband is especially good at pointing out my service to the family.  He has always said things like "Thank you for serving the family today by cleaning and making us this lovely meal" in front of the kids, and I know that this attitude of gratitude and seeing housework as service is definitely rubbing off on our sons.  Both of them often thank me for things like making their favourite meal or reorganising their drawers. 🙂
So how does "family service" work exactly?
Each morning after the boys make and eat their breakfast (and take their dishes to the sink), they are to find ways to do family service.  Usually they ask me what they should do and I will give them a job or two… eventually I will encourage them to look around and find the job on their own.
My older children are 6 and 4 years old now, and these are their main tasks:
-Emptying the dishwasher (one does dishes, the other does utensils)
-Sorting the laundry into lights and darks, and putting a load in the machine (I still do the soap and start the machine for the time being)
-If necessary, transferring a load of clean laundry to the dryer and turning it on
-Taking a load out of the dryer into the living room, sorting the laundry into piles for each person, and putting those piles onto their respective beds
-Putting their clean laundry into their drawers (it helps that we have pictorial labels on their drawers, which you can see in this post)
-If there are no laundry or dishes to do, they either tidy up the lounge, their rooms, or the outdoor play area.
As you see, these tasks are basically laundry, dishes, or tidying!  But they are new skills for the boys at this time, and it's lovely to see them learning how to do them independently.
Family service usually only takes 10 to 15 minutes… unless they decide to do something out of the ordinary like make patterns on the floor with the clean dishes like in the picture above, haha!  We do family service way before school starts, so that it's never a rush and they have plenty of time to complete the tasks at their own pace.  They know that taking a long time to do their jobs simply means they will have less play time before we leave the house for the day… so they can decide what pace to do them.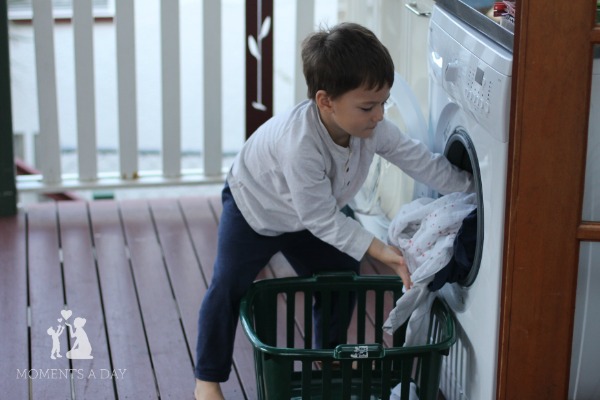 It's been about three weeks since we've had daily family service and I'm really loving the dynamic it's bringing to our home.  I personally feel more supported because everyone is actively contributing to the housework, and the kids are naturally developing a better understanding of what it means to keep a household in order.
I should also say that I think the routine of incorporating family service into our day was much easier to establish because we already have a basic morning routine going anyway.  This includes the kids getting breakfast, getting dressed, and getting the school bags packed – mostly on their own.  You can read about how we helped the kids develop those responsibilities in this post.
I hope instilling the concept of serving in the household will help my sons in their future relationships as well – whether that's with roommates at university or a spouse later on – because they will see jobs at home as just something that needs to be done, not something they must be asked (or nagged) to do.
I want them to understand that it's a joy to serve those you love (I'm reminded to display this attitude, myself!), and I hope this new pattern of family service in our household continues to foster this mindset.
How do you encourage your kids to be active members of the household?