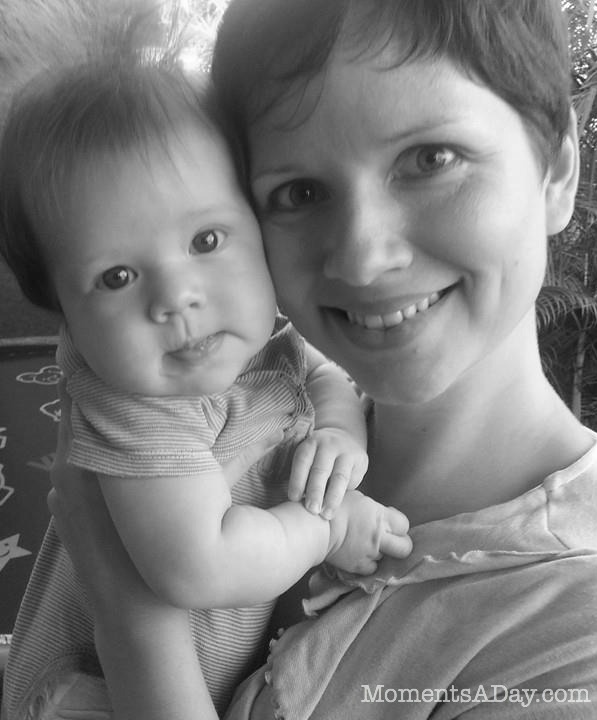 Dear Daughter,
This time last year I was impatiently enduring the two week wait to find out if we would be having another baby.  One year later here you are – three months old in my arms.
I am so grateful.  I don't even know how to express my gratitude.
But I also remember the emotions I had one year ago.  I was up late at night wondering, hoping, fearing.
Back then I never could have known that I would be where I am today.
Dear daughter: Life is uncertain.  Sometimes you have it all planned out, and it goes just as you expected.  Other times, it goes in a totally different direction… for better or for worse.
At some point, you may feel things are going off course.  You will wonder where you will end up.  You may feel you cannot bear it any longer.  You may feel alone, beaten, defeated.
But please, daughter, know that as bad as things are, they will get better.  Everyone faces mountains to climb, storms to weather, and moments of darkness.  I promise the light will come out again.  You will find your way.
There will be pain, yes.  But there will also be joy.  Pain and joy both so big that you think your heart will burst.
Each of us have our own tests, and none can judge another.  Embrace your journey and look forward to better times.
Every day I am reminded that your life is truly a miracle.  You are one of the many miracles that has blessed my life, even when I was convinced my dreams would never come true.  You are proof of a rainbow after the storm.
When times are hard, find the miracles and focus on the love in your life.  Look for the best, remember the good times, and appreciate the little things.  There is always beauty to be found.
I cannot promise that things will be exactly as you want, but I can promise that you can find goodness within yourself no matter what you are faced with.
As another wise mother once said, "Have courage and be kind."  Because when you meet life with courage and show kindness to those around you, you are bound to attract sunlight sooner or later.
Never give up.  Look for the miracles.  I promise they are there.  Please hold out until you find them.
I believe in you.
With love,
Mama
To read more in this series of letters, visit the Dear Daughter Archives.